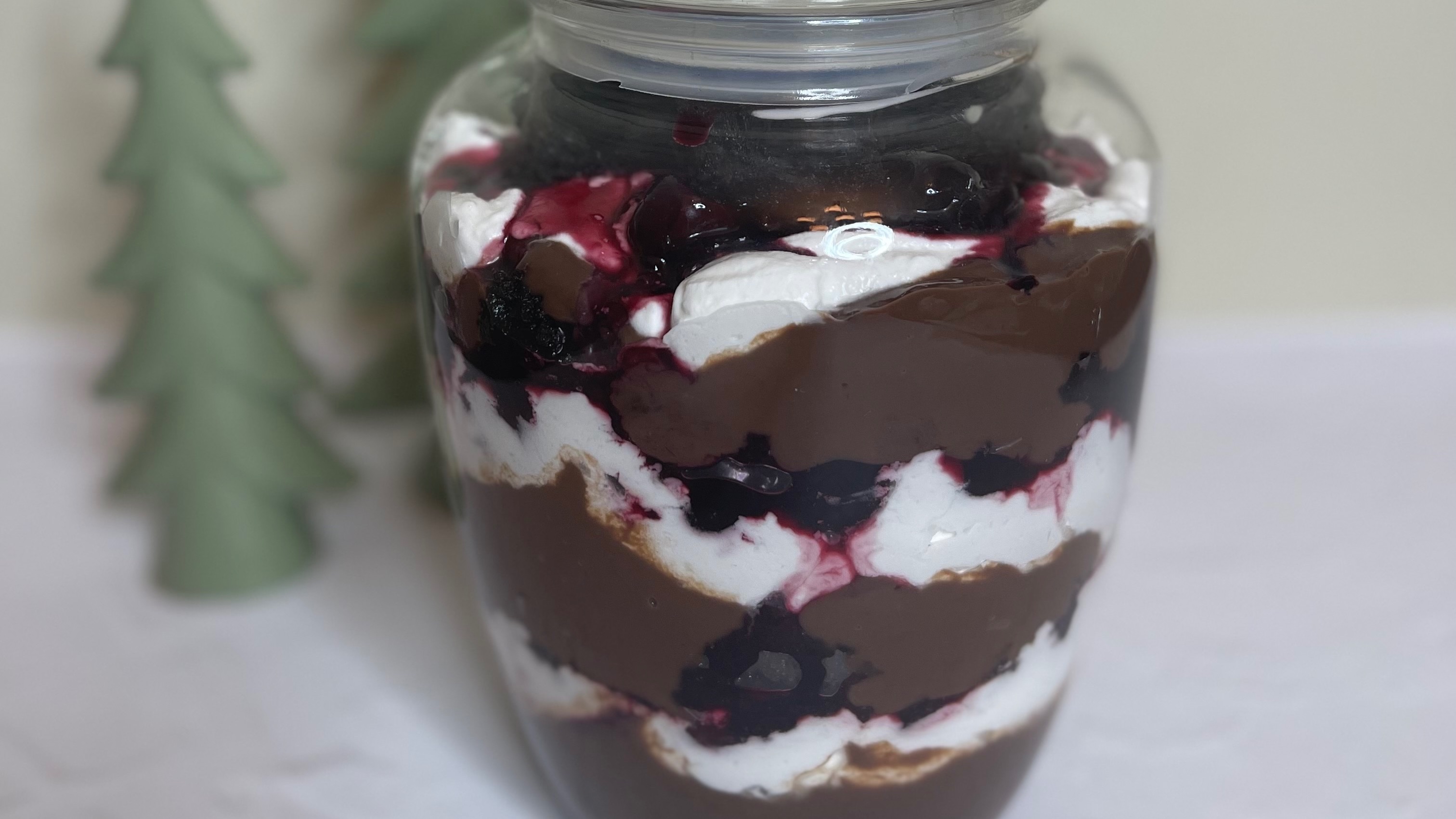 Chocolate Cherry Trifle
Dec 23, 2022
Ok, it's secret time: I am not a huge fan of sweets. There, I said it.
Now that the secret is out, what I can tell you is that I am still always looking for impressive desserts to serve my friends and family over the holidays. I try to find traditional recipes and tweak them to be gluten and dairy free so that I can partake as well. This is not always an easy feat. Sometimes the options available are limited, or when I do finally find something that fits the bar, the ingredients are awful.
I got it in my head that I wanted to attempt a trifle, because I knew I had control over the various components in the dish. This is actually a very simple recipe, and one that is sure to impress your guests. The layers are easily customizable so that you can include flavours you enjoy, and so that you can continue to wow your guests with new and exciting flavour combinations.
I decided to attempt a black forest cake inspired trifle, and it was absolutely delicious. The whip cream mutes the sweetness of the chocolate layers, so that the dish isn't overpowering or too rich. The cherry layer can always be swapped out for strawberries or raspberries too if you prefer, but I highly recommend trying this version first, and adjusting the next time (because there will be a next time!) you make it.
Enjoy!
Ingredients
1 473 ml container of whipping cream (I used dairy free)
1 package of brownie mix (+ whatever ingredients the mixture calls for)
750 grams chocolate pudding (or custard, I also used a vegan version for this recipe)
500 grams of frozen, pitted, dark cherries
¼ cup pure maple syrup
1 tbsp vanilla extract
1 tsp cornstarch
Cooking Utensils
1 8x8 baking dish
Electric hand mixer or whisk
A glass bowl
Recipe
Cook your packaged brownie according to the instructions on the box. Once your brownie is done, remove from the oven and let cool completely.
While the brownie is cooking, combine your cherries, maple syrup and vanilla in a small pot on the store. Turn your heat to medium low and let cook for 10 minutes.
Once the mixture is simmering, add in the cornstarch and mix well. Cook for another 5-10 minutes until the liquid has thickened a bit and the cherries are fully cooked.
Remove the cherries from the heat and let them cool entirely as well.
Pour the whipping cream into a large bowl and using an electric mixer or whisk (ideally the electric mixer because it will require significantly less effort) beat until the whipped cream forms peaks.
Once the brownie and cherries are completely cooled, you can begin layering the trifle.
Cut your brownie into bite size squares, and then crumble some as the bottom layer of your trifle.
Add a layer of the chocolate pudding until the brownie layer is covered.
Now add a layer of whipped cream to cover the chocolate pudding layers
Finally, top the whip cream layer with a layer of the cherries.
Repeat these steps until the bowl is full and your ingredients are gone.
Tips: Your layers don't have to be thick- your goal is to get a bite of all the flavours in each serving, so you don't need to overdo it.
Make sure you are using roughly the same amount of ingredients per layer. This will allow you to get more out of your dessert and increase the number of layers you have.
If you don't have a big glass bowl, you can also make small trifles in mason jars or wine glasses.
Article Written By: Michelle Levine | Personal Trainer & Group Fitness, Holistic Health & Wellness Coach
IG @michlwellness
Level up your health to level up your life! Welcome to the 90 Day HIH Coaching Program
Welcome to the Healthy is Hot Coaching Program.
This is a holistic health coaching program designed by Healthy is Hot founder and certified Health & Life Coach Chloe Wilde to help ambitious, driven and goal-oriented powerhouse women, re-prioritize their health.
The Healthy is Hot coaching program will help you build the habits that lead to a long-term lifestyle change so you can perform where you play.
Want to learn more or join the program? Click below.
Learn More