Smoked Salmon + Dill Breakfast Toasts
Feb 07, 2022
Disclaimer: This article was originally published on the Larissa Nicole Fitness blog. For more drool-worthy, macro-friendly recipes that taste just like your favourite comfort foods, click here!
Hey HIH fam - Larissa Nicole here!
If you asked me what my go-to brunch order is - it always involves smoked salmon.
Whether it's a smoked salmon bagel, smoked salmon eggs benedict (a personal fave!) or these melt-in-your-mouth Smoked Salmon Breakfast Toasts, there's just something about smoked salmon that makes you feel like you're enjoying a fancy, delicious, indulgent meal.
I'll be honest though, I don't typically reserve smoked salmon just for "brunch" formalities (and neither should you!).
When it comes to reaching my fitness goals, there's nothing easier than buying a family-sized smoked salmon that you can use for your daily weekday breakfasts by whipping up this simple recipe. It takes about 5 minutes to prepare, tastes absolutely delicious, and has a whopping 39g protein per serving. Not to mention, salmon is filled with essential fatty acids that are necessary for brain, hormone and nervous system support.
I'd call that a breakfast of champions if I do say so myself.
A few tips:
Choose a freshly made loaf with a crusty exterior and toast until it's crunchy and golden. This will prevent the greek yogurt from softening the bread and making it soggy by the time you're halfway through. Of course, you can always choose whatever bread you prefer - a higher protein bread, gluten-free, etc - but I find that a Tuscan loaf is my favourite texture and flavour.
I like to place each slice of bread onto a parchment-lined baking sheet like this one to help catch all the crumbs from the toppings - like capers, sea salt, lemon juice and fresh dill. It makes for a more mess-free prep and the presentation looks phenomenal if you're serving to a crowd.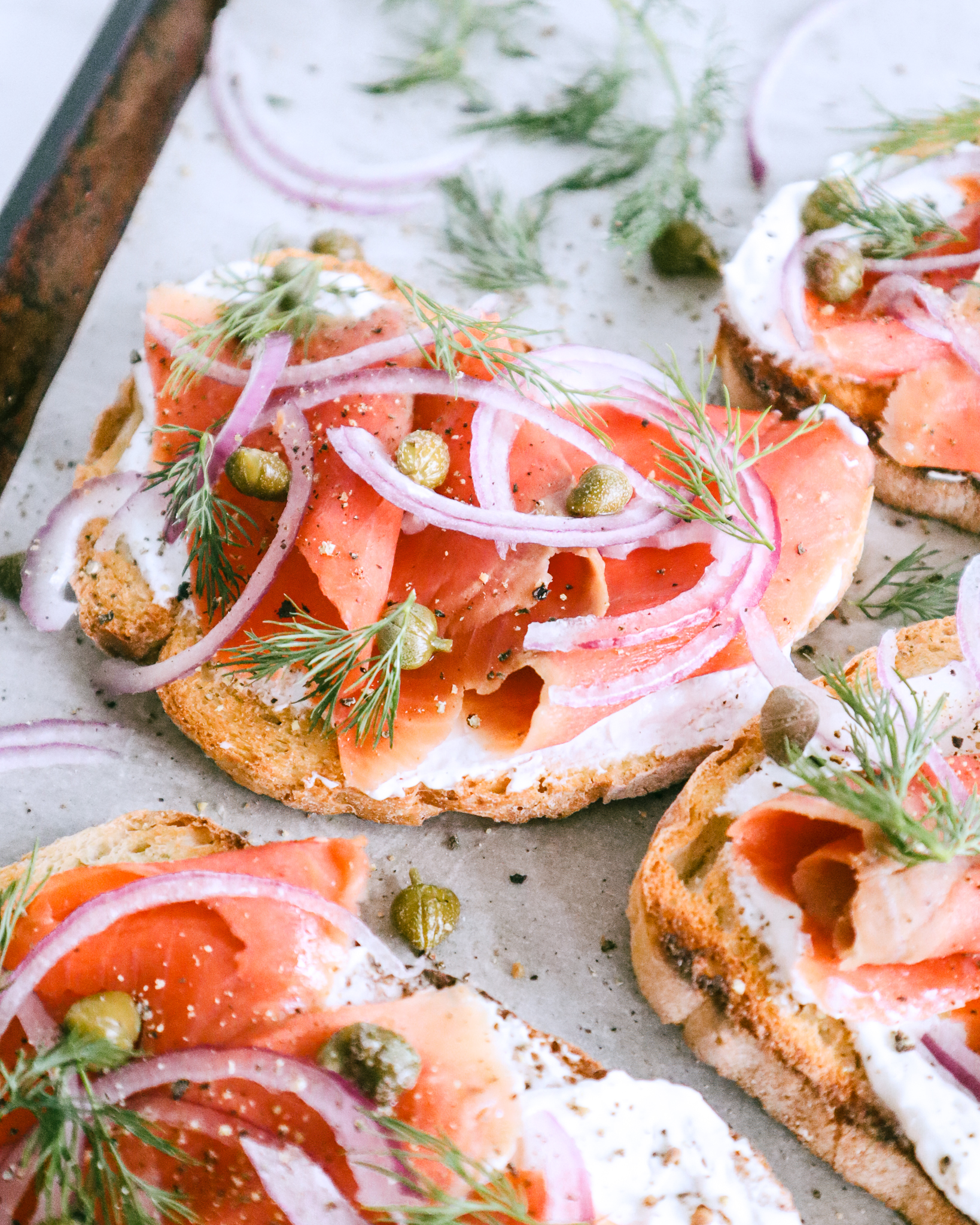 Grab the full recipe and details below!
With love and wellness,
LARISSA NICOLE | CPT, RHN
Article by: @larissanicolefitness⁠
INGREDIENTS:
8oz smoked salmon

4 slices crusty tuscan bread

1/2 cup 0% plain greek yogurt

½ red onion, thinly sliced

2 tbsp capers

a few sprigs of fresh dill

fresh lemon slices

salt and pepper to taste
DIRECTIONS:
Toast your bread slices until golden brown. Allow them to cool slightly.

Spoon 1-2 tbsp greek yogurt onto each slice, spreading evenly.

Add approximately 2oz of smoked salmon per toast and top with capers, fresh dill and red onion. Squeeze fresh lemon juice overtop. Season with salt and pepper as desired.

Enjoy!
NUTRITION FACTS:
Serves 2
Calories per serving: 477
Fats: 14g
Carbohydrates: 47g
Protein: 39g
Level up your health to level up your life! Welcome to the 90 Day HIH Coaching Program
Welcome to the Healthy is Hot Coaching Program.
This is a holistic health coaching program designed by Healthy is Hot founder and certified Health & Life Coach Chloe Wilde to help ambitious, driven and goal-oriented powerhouse women, re-prioritize their health.
The Healthy is Hot coaching program will help you build the habits that lead to a long-term lifestyle change so you can perform where you play.
Want to learn more or join the program? Click below.
Learn More