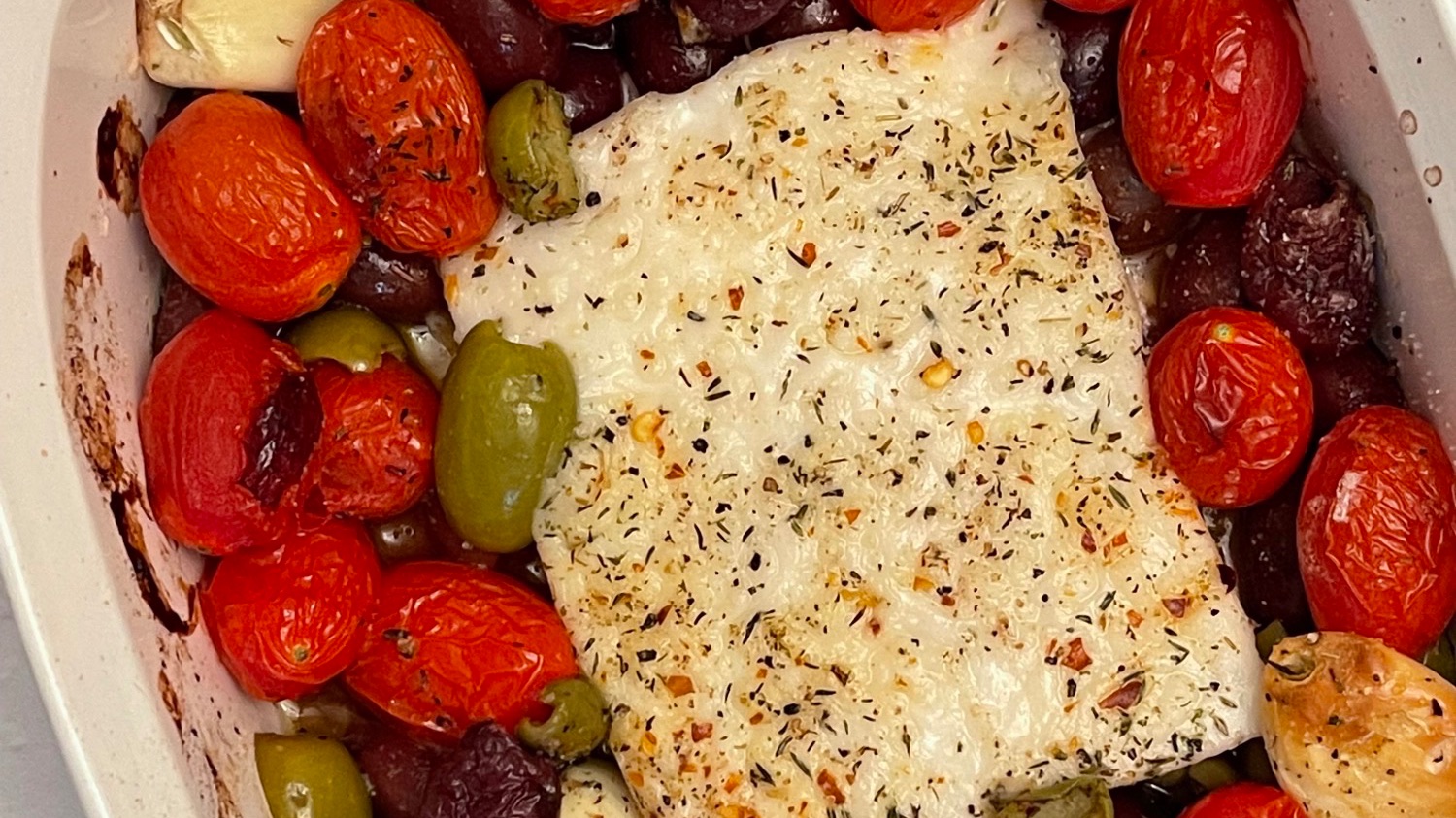 Tomato & Olive Baked Feta Dish
Dec 29, 2022
It really is the most wonderful time of the year. The holidays are such a magical time, bringing friends & family together to spend time and celebrate the passing of another year. Inevitably, the holidays are also a time for food, and lots of it! No matter what holiday you celebrate this time of year, there is always a huge meal (or possibly several meals) that you'll be either hosting or attending. That's why I love to come up with quick and easy recipes, that are sure to be show stopping, but won't break the bank or be too challenging to accomplish.
This dish is a riff on a baked brie recipe I do over the holidays as well. The baked brie is a sweeter appetizer, where this baked feta version is all about the savoury. I love this recipe because it's hearty and comforting all while being super simple to make. I am not re-inventing the wheel with this one either. The flavour combination is one I use in a variety of other recipes, so it's familiar and I usually have most of the pantry ingredients already on hand.
If you're looking for a sure-fire way to impress your guests, this recipe is for you!
Ingredients
A 250 g block of feta or vegan feta
½ cup pitted kalamata olives
½ cup pitted green olives
1 pint of grape tomatoes
3-4 cloves of garlic
1 tsp salt
1 tsp + ½ tsp pepper
½ tsp chilli flakes
½ tsp dried thyme
1 tbsp + 1 tsp olive oil
Baguette or crackers for serving
Recipe
Preheat your oven to 400 degrees F
Place the block of feta into a medium baking dish.
In a large bowl, combine your olives, tomatoes, garlic cloves, spices (minus the ½ tsp of pepper), and 1 tbsp of olive oil. Stir well to coat everything in the oil and spices
Pour your tomato & olive mixture into the baking dish with the feta so that the cheese is surrounded by your mixture.
Drizzle the top of the cheese with ½ tsp of olive oil & the rest of the black pepper.
Bake your feta & vegetable mixture in the oven for 15 minutes- check to see if the cheese is beginning to get bubble and the vegetables are roasting.
Cook for another 5-10 minutes until the cheese is bubbly.
Serve the cheese right out of the oven with some fresh baguette or crackers.
Caution! The baking dish will be hot when serving, so make sure to warn your guests before they dig in. No one wants to get burned over the holidays!
Article by: Michelle Levine | Personal Trainer & Group Fitness, Holistic Health & Wellness Coach
IG @michlwellness
Level up your health to level up your life! Welcome to the 90 Day HIH Coaching Program
Welcome to the Healthy is Hot Coaching Program.
This is a holistic health coaching program designed by Healthy is Hot founder and certified Health & Life Coach Chloe Wilde to help ambitious, driven and goal-oriented powerhouse women, re-prioritize their health.
The Healthy is Hot coaching program will help you build the habits that lead to a long-term lifestyle change so you can perform where you play.
Want to learn more or join the program? Click below.
Learn More